The Views Just Keep Coming
Many types of visitors enjoy their stay
The Paul Nelson Farm
In a land where pheasants flourish, Paul Nelson Farm stands eloquently at the pinnacle of hunting lodge experiences, apart from all the rest. 5000-plus acres of countryside dedicated solely to pheasant habitat create a wingshooter's panoramic paradise. But truth be told, it is far more than just the unparalleled bird densities that draws the wise hunter here.
And it all becomes evident when that first step is taken inside the welcoming warmth of the Paul Nelson Farm hearth. For it is the upscale accommodations that push this amazing place into a rarified echelon all its own. With 45,000 square feet of lodging space—and each room more wondrous than the next, there is indeed space for one and all at this most special of pheasant hunting venues. Discover for yourself the legendary lodging, long-range shooting and hunting adventures found only at the Farm.
Today, Paul's legacy and his passion flourish. Paul's son, Erik Nelson as well as Paul's wife Cheryl Nelson continue the legendary PNF experience. For those who desire world-class, we welcome you to Paul Nelson Farm.
Milestones
1941 – Paul's parents, Lyle and Jessie, moved from Onida, SD to a farm two miles northwest of the current lodge.
1945 – Lyle and Jessie bought the land around the present lodge and made this farm the "home place."  Lyle raised wheat, corn and sheep.  The farm was fenced for grazing.
1950′s – The family switched from raising sheep to cattle.
1971 – Paul married Cheryl Eggers in Sioux Falls, SD.  The family cattle operation now included a feedlot.
1983 – Paul made the shift from "rancher" to "farmer."  The cattle were sold and more land was acquired.
1988 – The Conservation Reserve Program began.  Paul re-seeded many acres to native grasses.  Thousands of trees and numerous food plots were planted. Several deep artesian wells were dug.  Pheasants began to proliferate.
1992 – Conversion of the ranch hand's house into a place to house guests got underway.  This is the first year hunters were hosted at the farm.  Though hunting officially began the previous year, visitors stayed at a nearby bed and breakfast.
1993-1995 – Many additions of bedrooms and lounge areas were added to the main lodge.
1997 – Main office was built in Gettysburg. Our office team continues to work from here today.
1999 – Erik Nelson graduated from Oklahoma State and returned to the farm – the third generation on the land.
2000 – Bunkhouse with 10 semi-private rooms was built.
2001 – Addition of the African Room was added to the Main Lodge.
2006 – King Lodge was built with 10 bedrooms.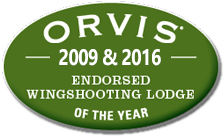 2008 – Erik Nelson married Tami Thompson of Selby, SD on August 9. On December 14, a fire destroyed King Lodge and mildly damaged nearby Bunkhouse.
2009 – King Lodge was rebuilt with 14 bedrooms.  Highlighted by the grand foyer, this exclusive lodge is a favorite of corporate groups. The Presidential Suite takes lodging to a new level of exquisite.
2009 – Bunkhouse was reconfigured to include 8 private rooms, it's own bar area, and renamed Buffalo Suites.
2014 – Remodeling of the Main Lodge dining area complete. Executive upgrades to all areas including rooms and main guest areas. In-floor heat throughout.
2016 – Paul Nelson Farms is awarded the prestigous Orvis Wingshooting Lodge of the Year for the 2nd time.
2018 – The Range at Paul Nelson Farm is opened.  Long-range rifle shooting in the summer months becomes a reality with the famed 2000-yard shot.
2020 – Paul Nelson is tragically killed in a freak Tornado accident just north of Miller, SD. The Paul Nelson Farm team transitioned ahead with a difficult yet successful 2020 pheasant hunting season.
Some of the sights around PNF
"I have been to Paul Nelson Farm for the last four years and it continues to be the highlight of my hunting season. Plentiful birds, top notch guides, and no detail is unattended. Can't say enough about the overall experience." 
Jimmy, Houston TX