Rush of a Lifetime
All you have to do is prepare yourself for the hunting rush of a lifetime. We'll take care of every other little detail.
With wonderful food, spectacular accommodations, and shooting opportunities that exceed your wildest expectation, you are in the trusted hands of Paul Nelson Farm.
Our hunting packages come with unlimited sporting clays and all the ammo you could possibly shoot. Our staff of professional guides and dogs will provide the hunt of a lifetime. The all-inclusive packages include any and all imaginable "extras" as just part of the extraordinary PNF lodge service. Don't put off the rush any longer.
The pheasant hunting season at Paul Nelson Farm runs from September 1 – January 1.  Please feel free to call us at (605) 765-2469 or email any questions.

Hunt Packages Include
3 days of hunting
Private rooms, w/ King bed and bath
All meals and beverages
Unlimited private sporting clays range
All ammunition provided for clays and hunting
5 pheasants per day (15 birds total)
Option to shoot extra birds at $49 per bird
Bird cleaning and packing
Guides and dogs
Kennel for your own dogs
Complimentary use of 12-gauge shotguns

Price Guide
6 or more hunters:  $5895 per person
5 hunters:   $6595 per person
4 hunters:   $6895 per person
3 hunters:   $7295 per person
2 hunters:   $7695 per person
Single Hunter:   $8295
Ready to plan your experience?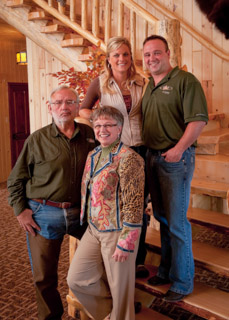 *King Lodge is an additional $1200 per person
*Ask us about exclusive use of the King Lodge or the entire resort
*$2000 deposit per hunting guest, may be applied to alternate dates same season

"PNF provides a great place to hunt and also a great place to escape thinking about the day-to-day to refresh the mind. Whatever you might do before or after the hunt gets blocked out by the focus the family and the team places on making sure its a great experience without hassle or trouble. I'd been before and will come again."  Guest from Houston, TX Sept 2014