Add PNF to your Bucket List
But your first visit won't be your last

One of a kind hunting experience

Fields are just minutes from the lodge


Complimentary shotguns available to use

All ammunition provided for clays and hunt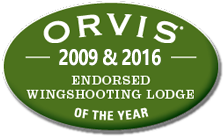 The Hunt
The corner piece species of the Paul Nelson Farm hunting experience is pheasants—clouds of them. Simply put, our bird populations amaze those who've never seen the benchmark best of upland game country. The countryside is gentle, rolling prairie, with fields and sky as far as the eye can see. You'll walk across cornfields, native grass rangeland, and millet/forage sorghum strips to flush out birds. And at hunt's end, you realize that the memories of that perfect shot and the cackling call of the rising rooster will be with you for a long, long time.
Oh, what a beautiful morning…
Finally, the moment you've been waiting for has arrived. Breakfast is over, you've attended the short video and safety talk in the theatre room, and you are ready for that first hunt.
10:00 a.m.: Buses are loaded up in front of the locker room.  At Paul Nelson Farm, you hunt only with your own group of family and friends. In less than 10 minutes, you are in the field, walking slowly in a line and waiting for your pheasant hunting guide to yell, "Rooster!"  (In South Dakota, it is illegal to shoot hens.) Soon, the sky erupts with the sound and sight of brilliantly colored ringneck pheasants.  This continues for 3 hours!
1:00 p.m.: Lunch at the lodge.  Time for a quick nap or catch up on e-mails or calls.
2:15 – 5:15 p.m.: Guides, dogs, and hunters are rested.  It's time for the afternoon hunt.
5:35 p.m.: Back to the lodge for hot hors d'oeuvres served at 5:45, drinks, and a shower!  7:30 Dinner attire is casual – no suit jackets.

"The Nelsons made us feel like we were part of the family, except I will never have that level of service at home."  Joe Barekman Euless, TX